Margaux Glaser, Sotheby's International Realty, Collaborated with Cristian David, Addison Brasil and Pacific Palisades Students to Support Seniors in the Community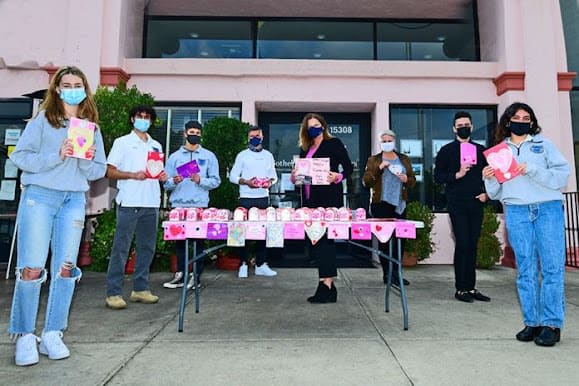 PALISADIAN-POST | By Lily Tinoco -February 18, 2021
Community Members Join Forces for Valentine's Day Weekend Deliveries
With social distance measures in mind, Valentine's Day weekend brought seniors and students from the community together Saturday, February 13.
Pacific Palisades Woman's Club member and local real estate agent Margaux Glaser coordinated a Valentine's Day surprise with the help from Corpus Christi School, Methodist Preschool of Pacific Palisades and Ambassadors from Palisades Charter High School.
Glaser said after working with plenty of older adults and their families, she wanted to get the community involved to do something nice, especially during the COVID-19 pandemic.
"I have a couple of seniors that I work with that have no family here, they live alone, they're in their 90s and
it breaks my heart … I really love to support seniors because I feel like they deserve it, they need it," Glaser said to the Palisadian-Post. "They are often overlooked in general … now with COVID, that just escalated that even more. Their lives with COVID are very restrictive and they've been affected the most."
Students from Corpus Christi and Methodist Preschool personalized Valentine's cards for Glaser and students from Pali High to deliver on Saturday afternoon.
She said deliveries were made to roughly 40 homes in the community; some to friends from the Pacific Palisades Woman's Club, some to clients she has worked with as a real estate agent at Sotheby's International Realty and to others she has casually met in the community.
Glaser said Valentine's Day-themed mailboxes filled with cards and candy were delivered to residents' doorsteps. Students adorned the Valentine's Day cards with messages of well wishes.
"I hope you have a great year, stay safe and healthy," one card read.
Another read, "I hope you have a good Valentine's Day, I hope you know that the world is filled with love."
"I wanted to do something on a personal level for them, not just give to a charity, but really do something that can enhance their lives, put a smile on their face or give them joy," Glaser said.
By the following Monday, Glaser said she received a number of messages and calls from recipients thanking her for the thoughtful gesture.
"What a wonderful surprise to have found your sweet Valentine's Day gift and those wonderful cards on my doorstep," one message read. "Thank you so much for your thoughtfulness as well as that from the artists involved."
Glaser said what she got in return for her efforts was tenfold.
"I do it because I support seniors in my business, I support their families, it means something to me to reach out to them one-on-one and show that I care about them," she said to the Post. "It was kind of a big effort … but what you get back from it is unbelievable … it makes me feel good, I'm just really happy."
Glaser said she doesn't wish to leave any Palisadians out next time she undertakes a delivery and to reach out to her if interested in participating.
#seniors #pacificpalisades #community #support #enhanceseniorslives #valentinesday #covidsupport #changeseniorslives #sothebysrealty #sir