#sellinghomesforseniors #realestate #love #realestate #sir.socal #sothebysinternatioanlrealty #community #support #listing #valentines #loveforseniors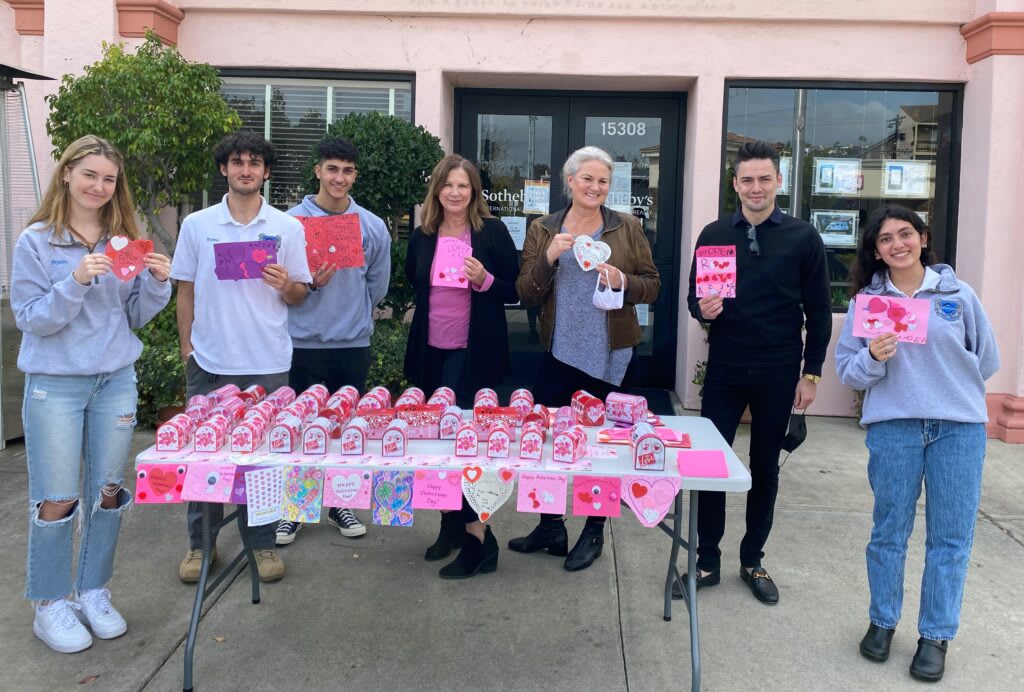 (Left to right) Palisades High School Ambassadors Peyton Branch, Keanu Nahmi Natan, Aaron Benyamini, Realtor Margaux Glaser, Woman's Club member Tameron Keyes, Sotherby's assistant Addison Brasil and Ambassador Kimiya Natan all gathered to deliver Valentine gifts to local senior residents.
With the social isolation that has trapped residents and particularly seniors, Sotheby's Realtor Margaux Glaser wanted to find a way to help them celebrate Valentine's Day.
"They are kind of the forgotten demographic," said Glaser, who works with a lot of seniors and has helped with the Woman's Club's annual 90s Birthday Party. "I just feel that they don't get out that much."
She came up with the idea of leaving Valentines at the homes of elderly residents who might not have been able to celebrate with family on Sunday because of the Covid pandemic.
"I reached out to Corpus Christi Elementary and also to Methodist Preschool and asked if the kids would like to make Valentines," Glaser said. The idea was immediately embraced, and tons of cards were created by the youngsters. "Teachers loved that the kids had a sense of purpose."
Glaser bought little mailboxes with candy inside to deliver with the cards to doorsteps.
She found extra help with deliveries through the Palisades High School Ambassadors club, which works to forge a community-school bond. On February 13, the teens took the mailboxes and the hand-made cards and delivered them to seniors in Pacific Palisades.
Glaser, who was raised in Carmel, graduated from San Francisco State with a degree in marketing. She worked on events for Conde Nast in New York City for 10 years before moving back to the West Coast.
About five years ago, she started working in real estate, a natural progression for her because "both brothers and my whole family are in real estate."
About this community service project, Glaser said, "Supporting the seniors, that's my passion." She urges everyone to reach out to residents in their neighborhood by asking, "Who do we know who could use a little extra attention?"